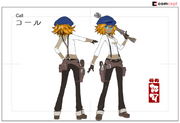 Call (コール) is a 17 years old girl who runs a rinky-dink shop called Bones Company inside Great Slope.
She has run the place on her own since her parents disappeared on her at the age of 10. She's poured all of her time and energy into protecting and improving the shop they left behind, making sure everything is in order just in case they ever come home. Also, she loves money a lot, appearing to be a little greedy.
This mechanic specializes in buying lost technology excavated by Delvers and breaking it down into scrap for her own custom weapon designs. Call seems to have a very bright personality, but she is extremely strict when it comes to matters of money. She's a master bargainer, and never lets a single cent to go to waste.
Utilizing her technological know-how and information network, she has sent Beck and Tyger on a variety of strange missions over the years.